Choosing the right eCommerce platform for your business can be a daunting task. There are so many options out there right now, and every platform has its pros and cons. We've got you covered if you're wondering how to choose the ideal platform for your business. In this blog, we'll cover the major factors you should consider before making your decision.
What is an eCommerce Platform?
An eCommerce platform is a software solution that helps small and medium-sized businesses build, manage, and optimize their online shopping business. It consists of an online shopping cart, payment gateway, email marketing, analytics tools, search engine optimization (SEO), social media marketing (SMM), website hosting, customer support tools and more. Several different types of platforms are available, including Shopify, BigCommerce and Adobe Commerce.
Each has specific benefits and drawbacks that should be considered when making the decision which platform to use. Depending on the needs of your business and the budget, one of these platforms may be the best choice for your online shopping cart business.
Things to Consider When Choosing Your eCommerce Platform
When choosing an eCommerce platform for your business, it's crucial to understand your business needs and requirements before making a decision. Start by analyzing the products/services you plan to sell and how you want to deliver them. This will help you identify the features of the platform that are vital for your business success.
Consider factors such as operating budget, payment gateway support, inventory management tools, and marketing tools required for your business to thrive online. Once you've identified the essential features of a platform, compare the various platforms based on pricing, features, and customer support. This will help you arrive at a conclusion that is beneficial for your business.
Pricing is one of the most important factors to consider when selecting an eCommerce platform. The cost of using the platform will depend on your business's needs and budget. It's important to compare the features and pricing of different platforms before making a decision. It can be challenging to determine the right pricing for an eCommerce platform, so it's important to consider both the cost of use and the pricing of optional services such as customization, hosting, and maintenance.
Additionally, it's worthwhile to review other business reviews online and talk to other business owners who have used the eCommerce platform. The cost of using an eCommerce platform should include all required service fees as well as any optional customization, extension fees, integration and/or hosting fees. When comparing pricing options, you must consider all of the above factors; otherwise, you may end up with a costly business decision.
It's crucial to choose the right eCommerce platform for your business. When choosing an eCommerce platform, you must consider several factors, including scalability and ease of use. You must ensure that the platform can handle your current needs and accommodate future growth.
Additionally, look for a platform that is flexible enough to allow you to add new features, products, and services as needed. Research the platform's ability to perform reliably during high peak volumes, perform load balancing, contains native lazy loading features, and what is the historical uptime for the hosting.
When choosing the right eCommerce platform, look for one that offers secure payment processing, data encryption, and other security measures. It is vital to ensure customer data is kept safe. Some platforms provide fraud protection services and make use of two-factor authentication, which allows customers to verify their identity using something they have (such as a smartphone or email account) in addition to their password.
Other verification methods can include requiring customer input when making online payments or asking for additional proof of identity (such as copies of passports or driver's licenses). In addition to these steps, it is important for e-commerce platforms to meet all applicable industry standards for security, such as those set by the Payment Card Industry Security Standards and the National Retail Federation's Code of Safety.
When choosing an eCommerce platform, consider the size and complexity of your product catalog. If you have a large number of products or plan to add more in the future, look for platforms that offer robust product management capabilities.
This will allow you to manage your inventory and keep your online store consistent and up-to-date. If you have a complex product catalog, it is important to ensure that the product catalog interface of your eCommerce platform can handle a large inventory and feature multiple images, sizes, attributes, colors, and prices. This will help shoppers quickly find what they are looking for without scrolling through endless pages of options.
An order management system enables customer order entry and processing. An inventory management system tracks and manages product inventory, sales, and other production processes. Basic IMS should record and manage information about the physical goods in your business.
The ability to interface with customer orders, inventory levels, and fulfillment status can give business management real-time visibility into their business's health. Researching the native services provided by the platform for OMS/IMS is important to understand if an integration will be needed for your business.
When choosing the right eCommerce platform, customization is key. While choosing a platform that suits your business requirements is important, it's also vital to search for one that offers customization options.
It's important to look for platforms that offer easy-to-use customization tools so you can further tailor your store's look and feel to match your brand. Some other customization options you should consider include different pricing models, payment processing support, shipping support, and inventory management tools.
When choosing a platform to use for your online store, you want to make sure that it has the tools and features necessary to support your business operations. One of the most important features of an ecommerce platform is integration with third-party services such as payment processors, inventory management systems, and marketing platforms. By integrating with these services, it will be easier for you to manage business operations and maximize the potential of your online store.
Additionally, an integrated platform allows eCommerce business owners to connect easily with third-party services that can help improve customer conversion rates and increase business profits over time. This saves time and money in the long run.
One of the most important things to consider when choosing an eCommerce platform is its SEO-friendly features. For eCommerce SEO, these features can include optimized page URLs, meta descriptions, and image tags that help search engines better understand and display your online store. Additionally, search engine optimization (SEO) tools such as keyword research and website analytics are essential tools to use while building your online store. Look for platforms that offer analytics so you can track customer behavior and make informed decisions about how to optimize your store.
Another important factor to consider is ease of integration with social media platforms, such as Instagram and Facebook. This will allow you to easily share customer photos and reviews with social media audiences, promoting your business and engaging with your customers in a personal way.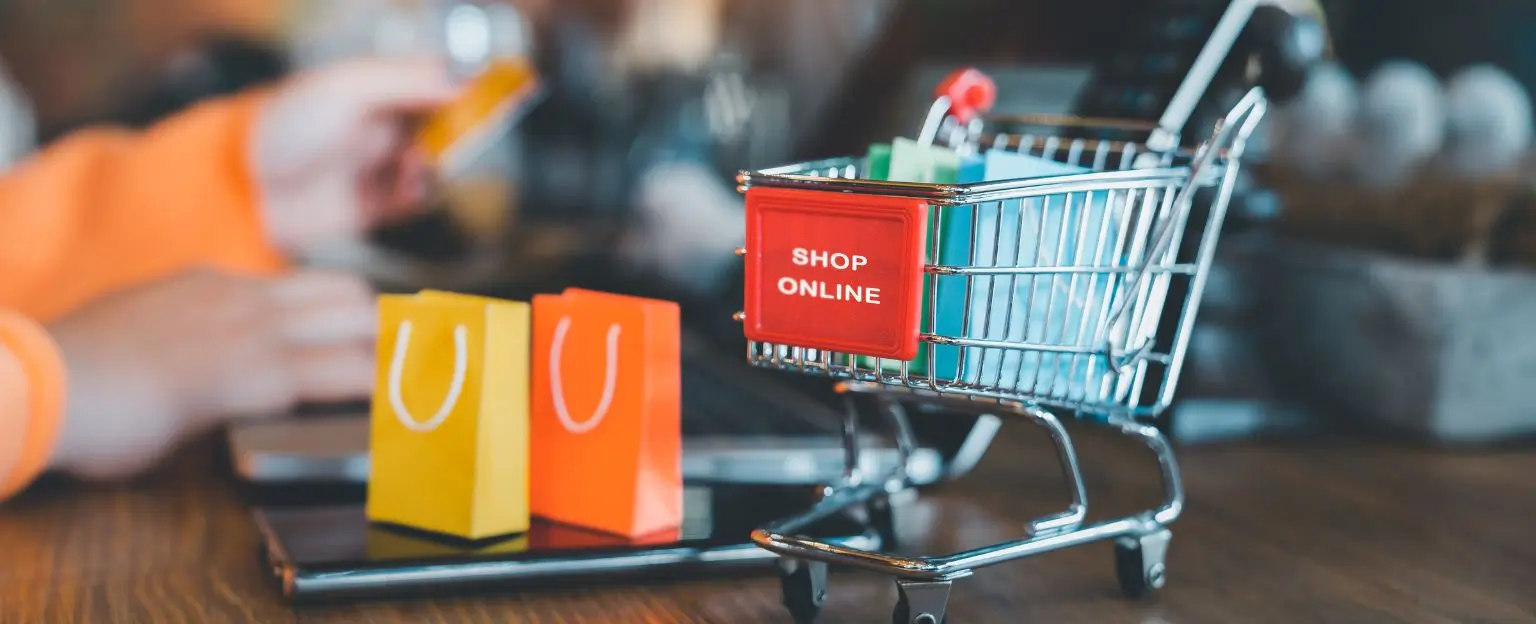 3 eCommerce Platforms Compared
There are many different eCommerce platforms to choose from, but it can be overwhelming when deciding which is right for your business. Each platform offers unique features and functionalities that can help businesses reach audiences online and grow their business online.
It's important to evaluate each platform's features and functionalities before making a decision and consider factors such as pricing, customization tools, user interface, payment processing, inventory management, marketing tools, website hosting, support, and analytics. By carefully assessing each of these factors, businesses can find the best eCommerce platform for their business needs.
Shopify is one of the most popular eCommerce platforms, offering a range of features and tools to help you get up and running quickly. It provides a variety of payment options, allowing you to accept various forms of payment, such as credit cards, PayPal, Apple Pay, and more. There is a fee if you do not use Shopify Payments.
It also offers a wide range of themes to customize the look and feel of your store. These themes include business-focused themes such as eCommerce store templates or fashion-focused themes such as a store for women or men. Shopify integrates with many third-party services, allowing you to use it to manage shipping, marketing, and accounting tasks. The lack of built-in features may require the addition of many apps.
Additionally, Shopify offers 24/7 customer support, making it easy for you to get support when needed.
BigCommerce is an eCommerce platform that is suitable for medium-sized and fast-growing businesses. It offers a wide range of features, including SEO tools and marketing support, payment processing, and integration with major shopping cart plugins.
Additionally, the platform includes various pricing plans to suit different business budgets. The revenue-led billing may be a concern for stores with tight margins. With BigCommerce, business owners can easily run their online store without having to worry about technicalities or customization.
Some users may find the set-up of the store confusing at times and will need time and patience. BigCommerce includes all the tools needed to run a successful online store without requiring any additional setup or management.
Magento (Now Adobe Commerce)
Adobe Commerce is an open-source eCommerce platform that offers powerful features for online business. It supports multiple languages, payment methods, and currencies, and enables merchants to create a unique shopping experience tailored to their business needs.
Adobe Commerce is highly customizable and allows merchants to create a website that is tailored to their business needs and preferences. The cost to start and run a store on this platform varies depending upon self-hosted Open Source to Adobe Commerce Cloud.
This open-source eCommerce platform has been widely acknowledged for integration capabilities, scalability, and reliability. For most things, setting up and maintaining an Adobe Commerce store will require a developer.
Conclusion on Choosing the Right eCommerce Platform
When it comes to choosing eCommerce platforms for your business, there are no simple solutions. You have to consider many factors, from customer support to pricing and customization capabilities.
However, if you can prioritize these factors and compare eCommerce platforms based on them, you can choose the platform that matches your business plan the most.
To get more details about the features you should look for in an eCommerce platform and a holistic view of Shopify- BigCommerce – Adobe Commerce, contact atmosol.
Other Articles You May Be Interested In