What are some of the biggest time-wasters in your daily routine? Chances are, it's the little things. When small inefficiencies build up, they eventually eat away at your productivity, and ultimately, your bottom line.
Unlike B2C customers, B2B clients tend to be more business-minded and take additional marketing effort to win over. Still, that doesn't mean they don't want an easy, intuitive shopping experience that feels as natural as a B2C experience. On top of that, gaining clients and maintaining relationships becomes more challenging in B2B as you scale for growth – especially if your internal business processes are slow, to begin with. Exceeding customer expectations requires heightened efficiency for agile adaptability. That's why modern clients demand a platform that's optimized for speed, customization, and personalization. Stay ahead of the curve with Magento B2B module, which offers streamlined, integrated and convenient solutions – because if you can't keep up with the increasing demands of B2B customers, they'll find a competitor who will.
First, let's identify some key differentiation points and considerations between B2B and B2C buyers: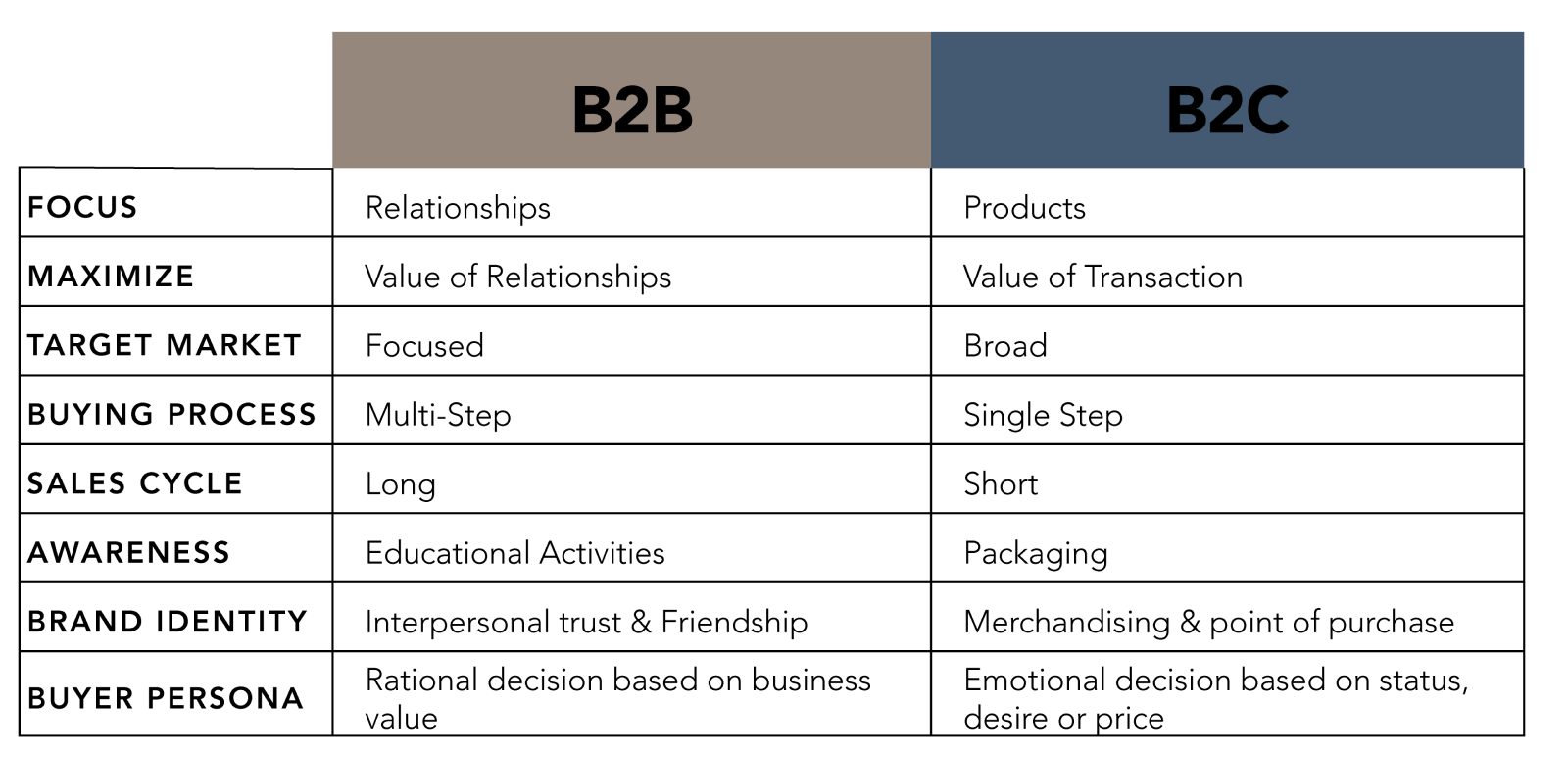 Clearly, selling to companies is very different than selling to an individual customer. Magento's B2B module is tailored to the unique needs of business-minded buyers by providing:
New B2B APIs
Payments on account
Request for quote workflow
Self-service company accounts
Customized catalogs and price lists
Buyer roles, permissions, and organizational structures
Quick ordering by SKU, requisition lists, and enhanced re-ordering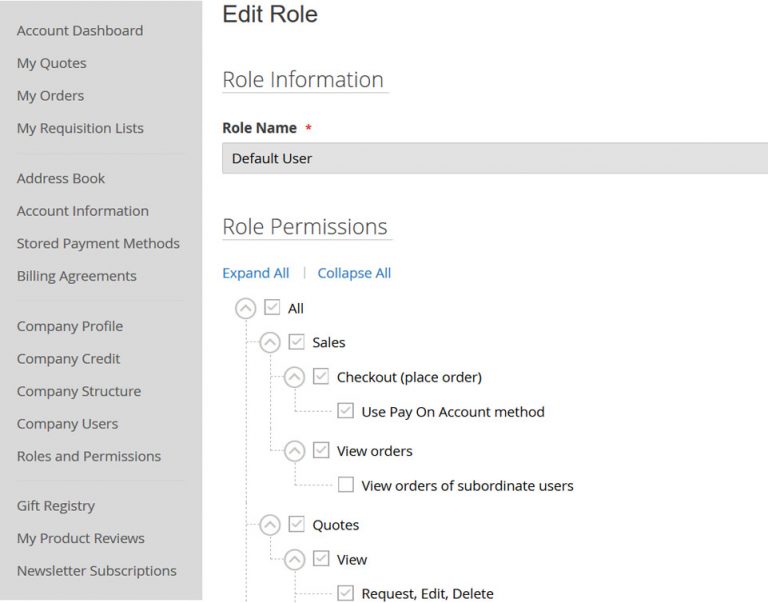 Buyer Side: View of Roles and Permissions.
Now, we can explore the specific benefits that Magento's B2B module brings to your eCommerce business to reduce complexity throughout projects – allowing you to gain faster time to market and lower your total cost of ownership.
1. Magento streamlines your bidding process and inventory tracking so you can win contracts and get orders placed faster.
Reducing friction throughout the ordering process is crucial in all sales. Magento's robust B2B module manages corporate accounts with efficient quoting and ordering systems to create a powerful buying experience that's as smooth as a B2C checkout. Feature-rich customizations make wholesale purchases a breeze by offering:
Per-unit costs
Bulk pricing tiers
Discounts for a range of order sizes
Sub-accounts with specific price-lists
Payment & shipping options (Purchase Orders – Invoice Me – Authentication for P.O. and credit limits)
Quote creation tools that support pricing term negotiations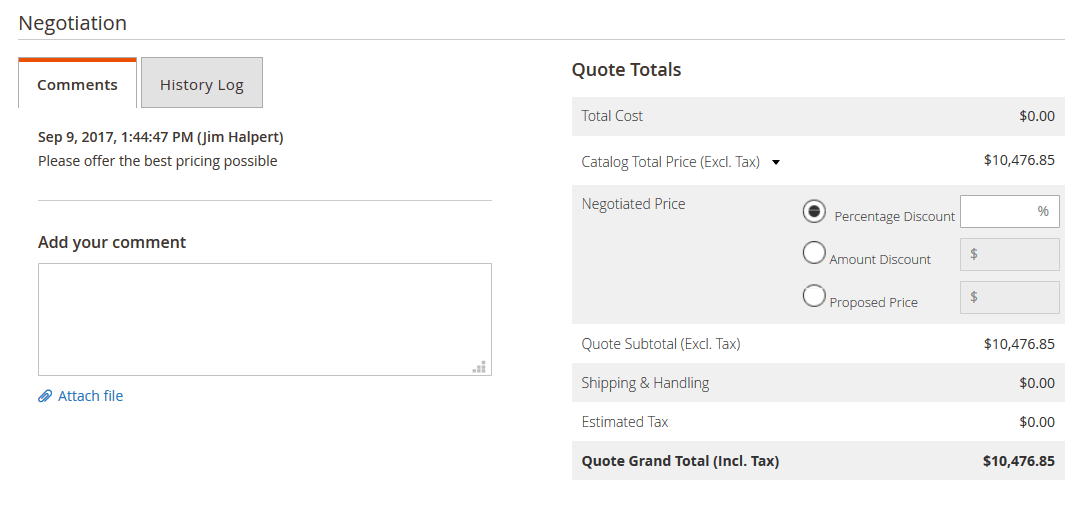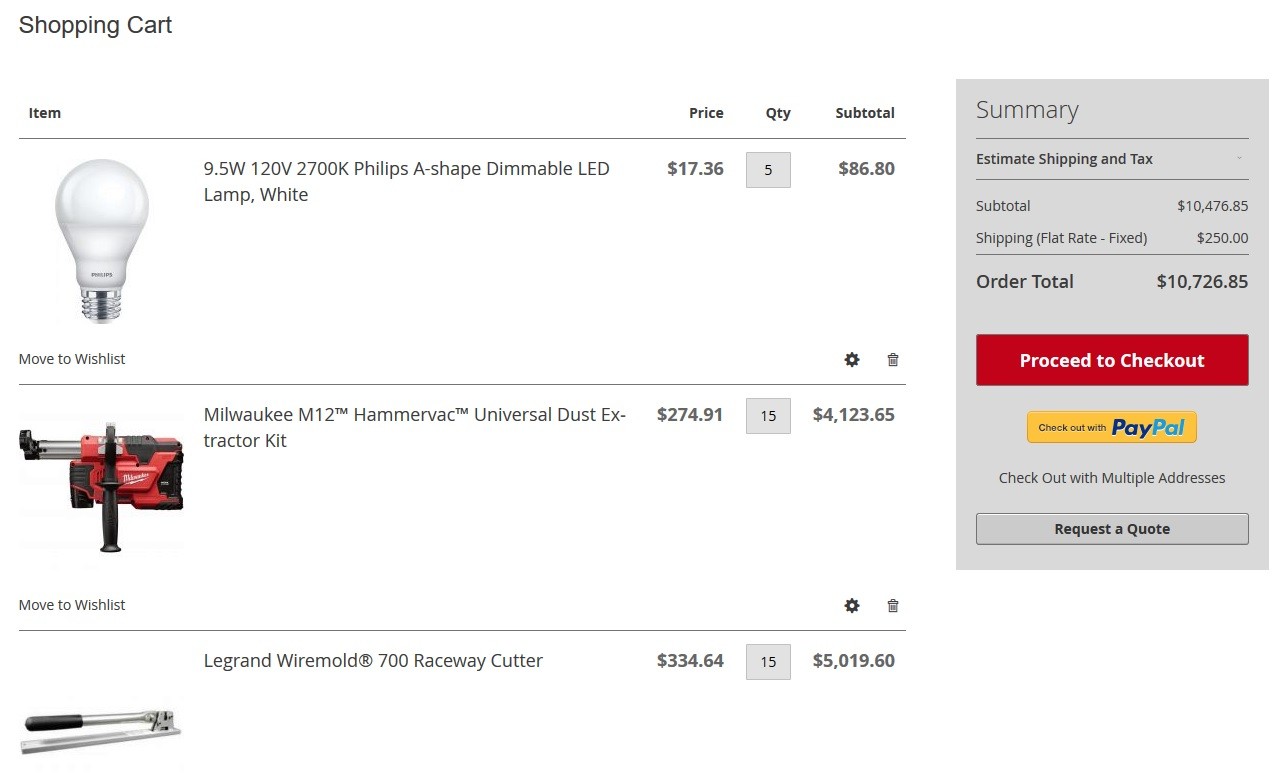 Buyer Side: Request a Quote Button.
And of course, there's negotiation. Being able to go back and forth nimbly in negotiation is still a major pain point for B2B eCommerce companies. The B2B module optimizes proposals with total cost data, product and shipping process, cross- and up-selling suggestions to increase AOV, and logs updates and communications in the quote history.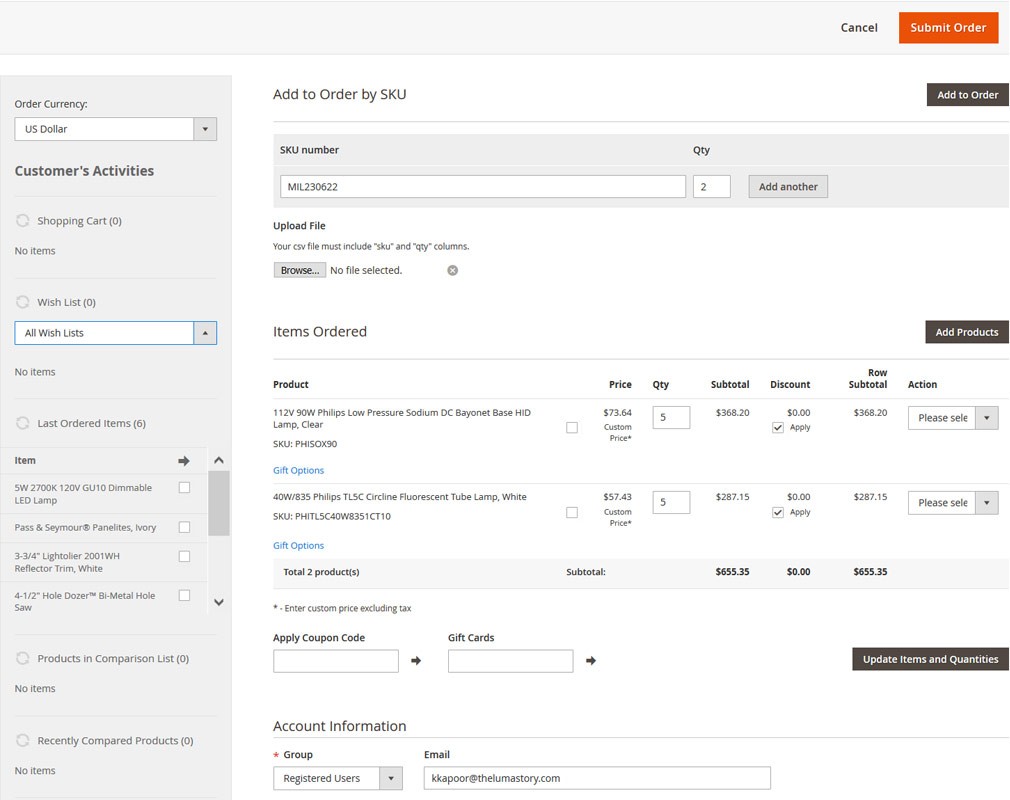 Merchant Admin: Assist Customers with Purchasing.
Magento didn't forget about the customer experience either.With the new B2B module, your buyers can track quotes online from their account. Customers can track a quote's status as its pending, then easily move to check out once the quote is finalized.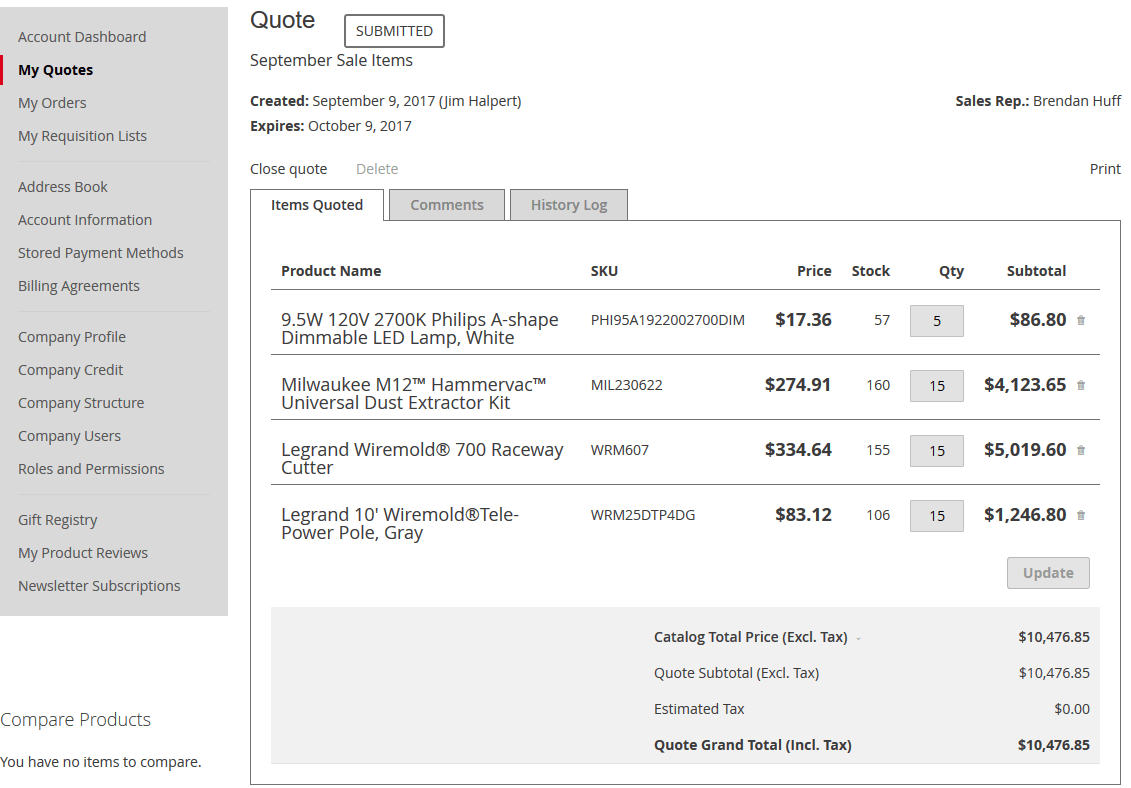 Buyer Side: Quote Detail View
What does that mean for your business? No more calls to your sales rep! Magento's B2B quoting and negotiation features expedite the smaller, yet crucial tasks so you can keep your company agile with an effortlessly intuitive user experience.
2. Magento provides simplified, customizable features that give you the ability to optimize across all touch-points.
From customers service to self-service, business buyers want a thoroughly engaging web and mobile-optimized experience. Consider that in 2016:
53% of B2B buyers said they prefer gathering information online themselves. That's why Magento's autonomous, transparent information adds value to the buyer experience and caters to their wants and needs.
93% of B2B buyers say they would rather purchase online than from a salesperson. If you haven't already, consider upgrading your client's ordering experience to stay relevant in today's competitive digital marketplace.
Companies with consistent experiences across devices stand the best chance of appealing to clients, which is really a no-brainer. Now, you can create a unified online shopping experience through Magento's product catalog which strengthens your brand identity and increases product awareness.
3. Seamlessly Integrate Your Business with Enterprise Resource Planning (ERP) Systems and Industry-Specific Extensions.
Leveraging atmosol's eCommerce development expertise and Magento's global ecosystem of support ensures that your backend systems are in the hands of those best equipped to craft your perfect B2B eCommerce solutions. Magento's API is flexible, robust, and customizable enough to give you control in optimizing your buyer's experience. From there, you can trust atmosol's experienced professionals to implement SSL certificates, integrate payment gateways, stay PCI compliant, and create custom ERP system solutions.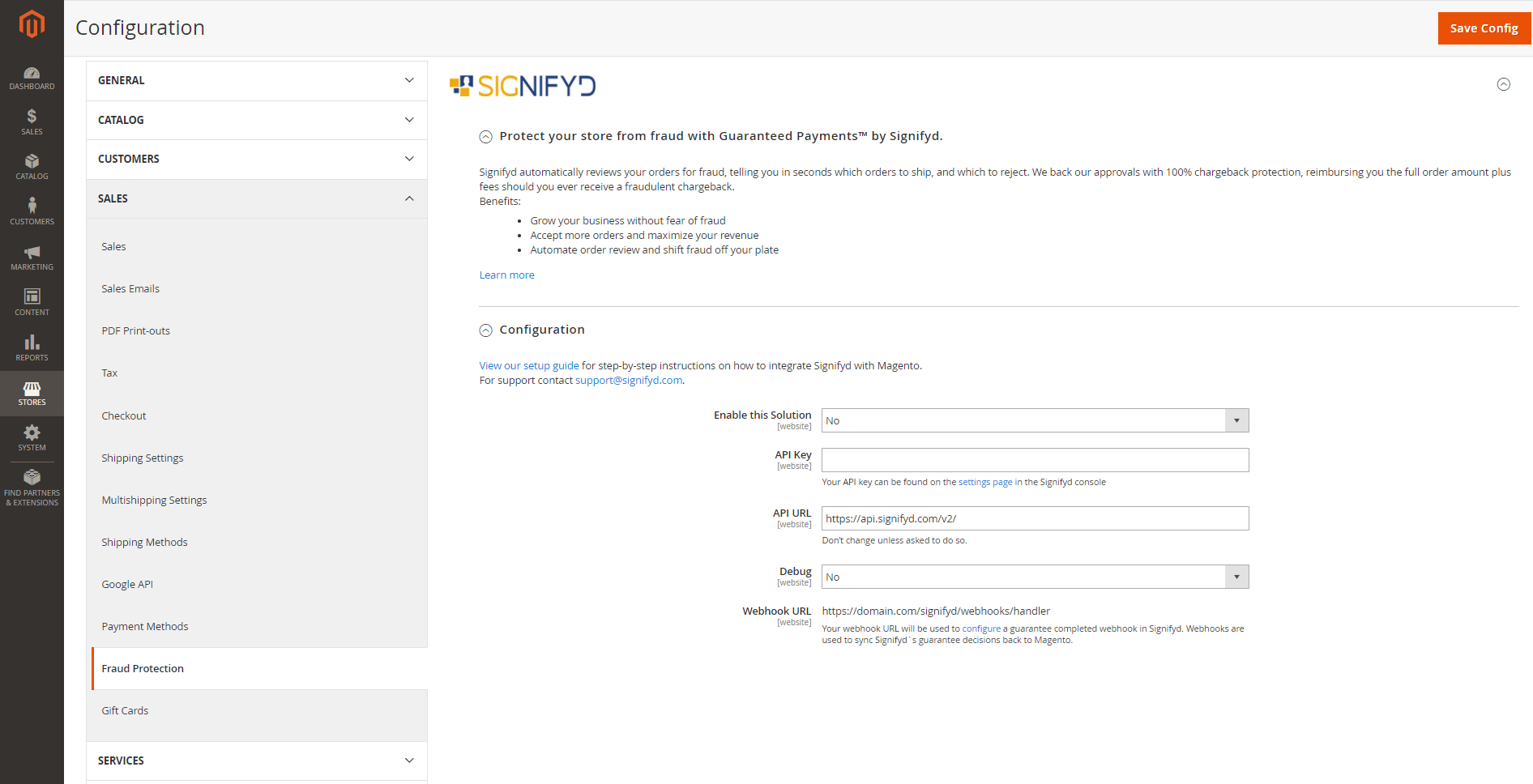 Magento Commerce and Open Source Reduce Fraud Liability to Zero using Signifyd
Our world-class team has 13+ years of eCommerce experience in development and digital marketing. We don't mean to brag (ok, maybe just a little …) but migrations, integrations, and custom applications are atmosol's forte. Plus, being a Magento partner has its perks, including access to vast amounts of exclusive resources. Give your B2B clients a light, enjoyable B2C experience with responsive apps that solve your business's unique pain points.
Ultimately, if your business fails to deliver a convenient B2B purchasing experience with accurate inventory and pricing, then you're going to lose in today's hyper-competitive landscape. Wholesalers are looking for hassle-free ordering because our busy schedules demand efficiency. The best way to stay relevant is to reduce friction and eliminate pain points for both your buyers and yourself. For B2B, it's a win-win to invest in long-term initiatives that enhance your value proposition and deepen your differentiation from competitors.
Discover the right solution for your business with a complimentary, holistic site audit from atmosol by talking to one of our eCommerce experts.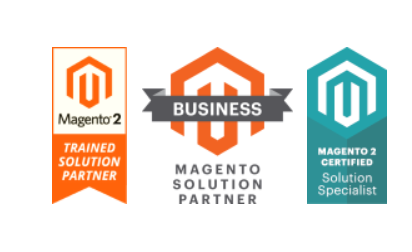 Other Articles You May Be Interested In
---