Which eCommerce Solution is Better for Your Business?
Whether you're first starting out on your eCommerce journey, or you've made the decision to switch to a different shopping platform, deciding on what provider to use is an important decision.
From the site load time, to the protection of data, to the assisting of your growth, your choice of ecommerce platform affects much more than just the initial or on-going cost.
The decision usually starts with a choice between leveraging a software-as-a-service (SaaS) platform, which means outsourcing hosting and back-end management to a company specializing in ecommerce, or to select a platform that gives you the responsibility for all or some maintenance, like a fully on-premise solution or an infrastructure-as-a-service (IaaS) solution.
When making your choice, you're probably wondering which type of platform is better for your overall business costs, integrations with other platforms, and compliance.
In this blog post, we'll explore the differences between ecommerce platforms to help you determine which is better for your business.
In this blog post, we'll explore the differences between ecommerce platforms to help you determine which is better for your business.
How much will the platform cost?
Cost is always going to be a determining factor in business — usually, it's the most important. The cost difference between on-premise and SaaS ecommerce platforms can be significant.
Forrester estimates that 80% of on-premise spending goes toward maintenance, while 20% is used for new projects and initiatives.
SaaS platforms offer a couple of major cost savings:
The economics of scale — hosting software in the cloud is cost-saving, the same way that businesses going digital save on printer and paper costs. Moving to technology rather than on-premise maintenance takes less material and development.
Unlike on-premise platforms that require a high up-front cost, SaaS platforms grow with you — costs are smaller when you're smaller, and they grow as your business ramps up to add more complexity and requirements.
The lifetime cost of SaaS platforms is significantly lower than other solutions, primarily due to the complexity and cost of building and maintaining an in-house data center.
How can I customize the platform?
It's important that your site reflects your brand voice, both in images and in text, especially if you want to stand above your competition. From a user experience standpoint, you need to ensure that your site is easy to navigate and quickly gets visitors the information they need to purchase a product (convert).
It will be easier to create a well-designed site if you choose a platform that offers front-end flexibility. With a skilled design and development team, Magento and other on-premise / IaaS solutions can offer complete customization. They can also help your business manage its own development and deployment cycles. The Magento system is complex and requires development professionals with Magento-specific certification — so make sure you vet the partners you hire.
On-premise and IaaS platforms used to be the top choice for companies seeking customization — and sometimes they still are, but today's SaaS platforms are fully equipped to meet the needs of your business. SaaS platforms are purpose-built for designers and developers to quickly build customized and branded ecommerce sites that help users convert.
Will the platform still work when my brand grows?
Everyone should expect their company to grow, so it's important to consider scalability as part of your platform decision. IaaS, on-premise and SaaS platforms are all scalable, but the speed, cost, and ease of scaling is different.
For many growing companies, SaaS is the right choice because it eliminates the infrastructure costs and concerns that are associated with scaling.
How quickly will my store get up and running?
When it comes to launching a site, the clock is always ticking. Patience is a virtue, but it's important to factor in the time to market.
Going into a build that isn't fully SaaS is more of a marathon than a sprint. You'll need to select and build the infrastructure, make staffing hires, implement security solutions, and make many other key decisions before beginning the design and development process.
With a SaaS platform, you start at the design and development stage, which can reduce your time to market by weeks or even months.
On-premise launches typically take about two to four times longer than SaaS launches.
Every company is subject to a massive amount of scrutiny when it comes to security and compliance. This is understandable when you consider the volume of credit card data that passes through databases while people are shopping online.
Will my customer's data be secure?
Ensuring your ecommerce platform is as secure as possible means keeping up with security patches, updates, and PCI compliance standards.
Since neither type of platform (SaaS or on-premise) is inherently safer, your decision will rely on whether you prefer to have control over updates and compliance auditing or whether you want to pass off that responsibility to an ecommerce provider.
For mid-sized companies, the choice between SaaS, IaaS, and on-premise is not terribly difficult. In addition to being more cost-effective, SaaS ecommerce platforms save time, complexity, headcount, and a great deal of uncertainty—all of which add up to a compelling packaged solution for growing businesses.
Where the decision becomes more complicated is for larger organizations, for which staffing, expense, and complexity are less of an obstacle. On-premise solutions are endlessly flexible and give companies complete access to their source code and customer database—a benefit for enterprises who need to do real-time data mining. However, SaaS platforms are also highly customizable, are far more cost-effective, and enable enterprises to go to market much faster.
BigCommerce is the world's leading cloud-based ecommerce platform for fast-growing and established brands. Combining enterprise functionality, an open architecture, and rich app ecosystem, BigCommerce enables businesses to grow online sales with 80% less cost, time and complexity than on-premise software.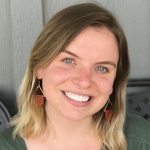 About the Author: Corinne Watson
Corinne is a writer and researcher at BigCommerce, where she works directly with agency and technology partners to bring their tools, services and ideas to the commerce industry at large with educational content. When she's not working, she's creating and designing for fun online
Other Articles You May Be Interested In