To help you when considering BigCommerce as your eCommerce platform, we provide you the starting cost to know what you should expect from our agency:
Basic Plan // Starting at $7,000
Theme & Customizations // Starting at $13,0000
Custom Design // Starting at $45,000
What does it include?
Store features, Financing Options, Theme Implementation, Design, Data Migration, SEO, Training, Payment Gateway, Mobile responsive.
Understanding the Costs of a BigCommerce Website
BigCommerce is one of the leading eCommerce platforms in today's market. It provides entrepreneurs and businesses a robust platform to create an online store, sell products, and manage an eCommerce business. But one question that often comes up when considering BigCommerce is, "How much does a BigCommerce website cost?" In this blog, we'll delve into the potential costs you might encounter when setting up your online store with BigCommerce.
While the BigCommerce pricing plans cover the essential functionality you need to operate an eCommerce store, there may be additional costs to consider.
Design and Themes: BigCommerce offers a variety of free and premium themes. Premium themes range from $150-$300. Customizing a theme or building a new one can cost anywhere from a few hundred to several thousand dollars, depending on your requirements and the designer's rates.
Apps and Integrations: Although BigCommerce comes with a lot of built-in features, you might need additional functionality provided by third-party apps. These apps can range from free to more than $50 per month.
SEO and Marketing: SEO, social media marketing, email marketing, and paid advertising are integral parts of running an online store. These can vary widely in cost, depending on your strategy and the platforms you use.
Maintenance and Support: While BigCommerce includes support in its plans, you might need to hire a BigCommerce developer for custom solutions or troubleshooting complex issues. The costs for such services can vary based on the complexity and frequency of tasks.
Conclusion
So, how much does a BigCommerce website cost? The short answer is that it depends. The monthly costs can range from $29.95 to a few hundred dollars based on the pricing plan you select. When you factor in additional costs such as themes, apps, marketing, and support, the cost can increase significantly.
However, it's important to remember that an eCommerce website is an investment. The true cost must be measured against the potential ROI. Regardless of the size of your business, BigCommerce provides a comprehensive platform to launch, manage, and scale your online store. Always align your eCommerce investment with your business goals and budget to ensure a successful venture.
Remember, cost is just one factor to consider when choosing an eCommerce platform. Be sure to also consider the platform's features, scalability, security, and how well it aligns with your business needs before making a decision.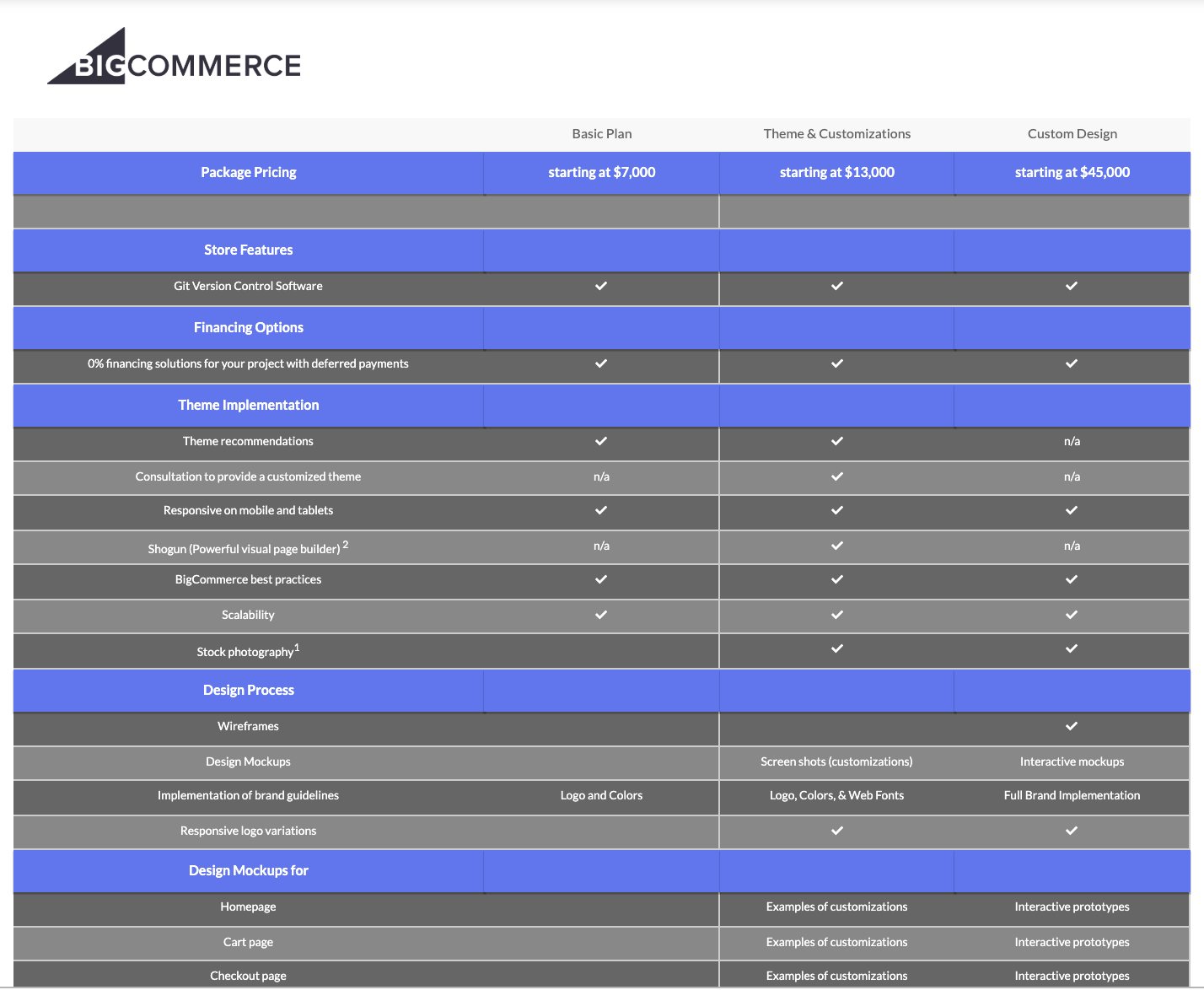 And more… We created an exhaustive list of everything that is included check it out!
If you are looking for an experienced, certified BigCommerce development partner, let our creative team of eCommerce experts assist you.