Before we discuss ways to improve Average Order Value and Customer Lifetime Value (CLV), let's quickly look at what these are and why they are important to your e-commerce business.
Average Order Value (AOV)
Average order value, as the name suggests, is the average amount customers pay in a single checkout. It can be calculated for a given period by dividing the total revenue by the total number of orders
Customer Lifetime Value (LTV)
Customer Lifetime value is the total sales on average that you expect a customer to purchase from the store during their lifetime. It can be calculated by dividing the total revenue by the total number of customers in a given period.
Given that definition, it's quite obvious that increasing these values will mean more revenue, but there are some other considerations where these become important. One such consideration, for example, is how much a store should spend on Customer Acquisitions Cost (CAC). Let's take the case of a store that's considering a Google Pay-Per-Click Campaign per the following parameters.
1. Subscriptions
As long as the store is not selling something that the customer usually needs only a few times in a lifetime, this is a highly impactful way to increase Customer Lifetime Value. And it's quite common as indicated by a McKinsey survey that found that almost half of all e-commerce customers held at least one subscription. However, merely offering a subscription might not do the trick. The same survey also found that most customers don't subscribe because they love subscriptions, but do it for other reasons like a recommendation from a friend, or a financial incentive as seen in the diagram below.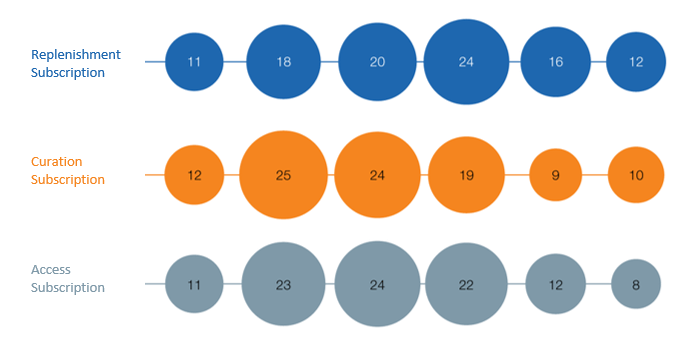 Definitions:
Replenishment Subscription: Replenish the same or similar items
Curation Subscription: Receive a curated selection of different items with differing levels of customer decision-making required Access Subscription: Membership provides access and can convey additional VIP perks As is evident from the numbers, offering a discount and providing a great customer experience, leading to recommendations, are the top two strategies to increase Customer Lifetime Value through subscriptions.
2. Rewards
Rewards are another great way to encourage repeat business and hence improved Customer Lifetime Value. Here are three statistics from a survey by Bond Brand Loyalty that proves this assertion.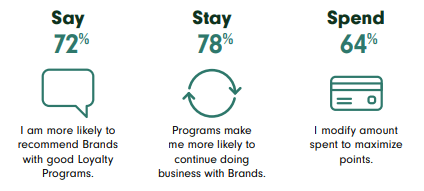 Rewards can be offered not only for purchases but for other actions such as referrals and even social media sharing. However, engagement in rewards programs varies depending on how much value the customers perceive them to be. Here are the two biggest differentiators that can make your rewards program stand out.
Recognition & Support
The same survey cited above found that recognition is the top reason that customers choose to stay on and engage with a rewards program. Customers expect to be treated better than non-program members. Other surveys have shown that levels of program membership with increasing rewards or experiences is one great way to make a customer feel recognized.
Personalization
The other big reason for customers to engage with a program is personalization. The survey found that rewards programs that are able to personalize offers are able to achieve much higher lift in outcomes as against the ones that don't.
Having a great rewards program not only lifts lifetime value by making the customer more likely to buy again but also increases Average Order Value as found by another survey.

3. Cross Sell And Up Sell
Upsells and Cross-sells have been known to increase AOV long before eCommerce, but for the skeptics, here are a couple of statistics that should convince anyone to adopt this strategy
Amazon reported that 35% of its revenue comes from cross-selling and up-sell
Forrester Research estimates that 10-30% of eCommerce revenues come from product recommendations.
There are a few different forms of upsell and cross-sell as it relates to eCommerce. Let's look at a few in more detail.
Frequently Bought Together
"Frequently Bought Together" or "People Also Bought" sections show customers what other customers have added to the cart along with what they are looking at. The former strategy is useful in cases when a customer will need an accessory to fully utilize an item they are looking at. The latter is more generic, but usually also less effective. Stores can use tests using both together or using the latter when the former doesn't apply.
Upgrades And Quantity Upsells
Upsells can be achieved through newer or upgraded versions of products or increased quantities. Customers landing on an older version of a product can be guided to a newer, more expensive version along with an indication of what the new product provides that the older one does not offer. Customers buying a product with different quantities, (coffee, anyone?) can be offered a discount for increased quantity as well.
Product Bundles
Upsell and cross-sell can also be achieved using product bundles. Carefully planned product bundles have shown an extraordinary increase in Average Order Values. A study by Harvard Business Review on Nintendo showed that the company sold about 100,000 more units of video game consoles when it was bundled with a game and sales of games also increased when bundled. However, providing customers flexibility was found to be essential since pure bundling (making the products available only as a bundle) reduced sales by 20%. Many other success stories exist of product bundling increasing average order values by more than 100%. Where possible, it's definitely worth trying different combinations to increase Average Order Value.
4. Wish List
Wish list is a feature that allows customers to save items that they like, but are not ready to buy yet. Just providing a wish list is obviously convenient, but there are also other ways to optimize a wish list further. For example, making a wish list shareable can increase sales further if a customer shares their wish list with like-minded friends. Wish lists can also be a reason for increased email marketing engagement when for example, the price of an item in a wish list drops due to a new discount. It can also allow companies to better personalize emails and have more information about customers individually and as a whole to optimize inventory.
5. Email Marketing
This one is obvious. In order to increase Customer Lifetime Value, customers have to come back to the store. What better way to remind them than a nice little email with products they might like, or a special promotion or an email about any of the other strategies above? Here are some tips that will help you ace email marketing.
Welcome Email
Welcome emails are a great way to promote other products after the first purchase. These emails have a fantastic open rate of 82% per research from GetResponse. So, regardless of whether the customer actually signed up for an account or not, send them an email welcoming them to your store.
Personalization
Per Yes Lifecycle Marketing research, a personalized email subject led to a 50% more open rate than the ones that were generic. Even personalization as simple as including the first name in the subject increases open rates significantly. However, open rates are only part of the story. Actual conversion rates will depend on the personalization of the content itself. Things like similar or frequently bought together products or same category products can increase conversion rate and ultimately Customer Lifetime Value.
Other Articles You May Be Interested In
---