You only get one chance at a first impression.
SaaS solutions are notorious for being rigid and difficult to customize. Stencil changes all of that.
You can have multiple variations on each theme and the option to customize their storefront's look and feel, with no coding!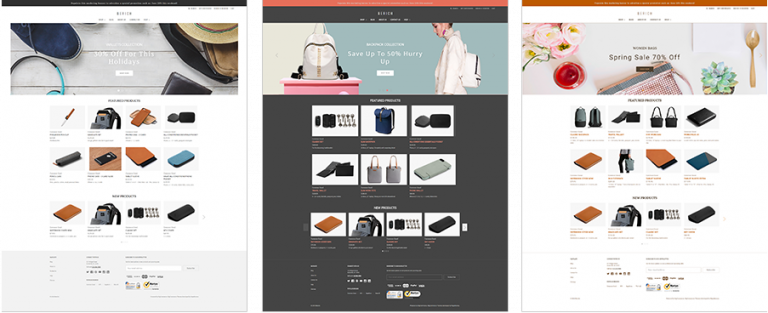 BIGCOMMERCE DESIGN + DEVELOPMENT :
Stencil is the latest theming engine from BigCommerce and replaces Blueprint. Now designs have the ability to be agile and custom through BigCommerce-powered UX.
We can take your basic BigCommerce Stencil theme and augment the design using:
Responsive Custom BigCommerce Design
Get a custom BigCommerce theme that looks sharp, is fully responsive and easy for your customers to view on all devices.
Design Upgrades & Improvements
Start with your existing BigCommerce theme or choose a brand new one and we will customize it to fit your business needs.
Advanced Design Customization
Checkout page design improvements, mega menus, geo-filters, age confirmation popups & more…
We can migrate your existing theme from any other shopping cart platform over to your new BigCommerce store.
ECOMMERCE THEMES + CUSTOM DESIGN
Yet, if you need more than what comes out of the box, it's time to develop your own custom theme.
We create BigCommerce web designs that load quickly with intuitive, user-friendly designs to help improve your eCommerce conversions and increase sales.
If you are looking for an experienced, certified BigCommerce development partner let our creative and experienced team of eCommerce designers assist you with all of your BigCommerce design needs.
Get your customer's interest and attention with a custom BigCommerce design, tailored for your brand.